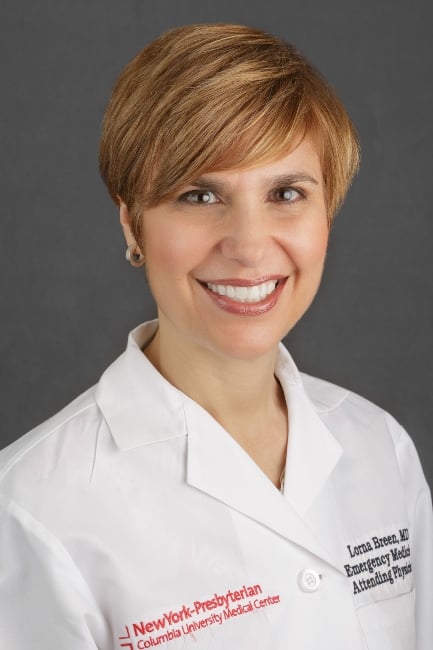 After treating COVID-19 patients and contracting the virus herself, longtime ACEP member Lorna Breen, MD, FACEP, died by suicide Sunday, according to published reports.
Dr. Breen, 49, was the chair of the Department of Emergency Medicine at the New York Presbyterian Allen Hospital. She had been an ACEP member for 15 years and served recently on the Emergency Medicine Practice Committee, where she spearheaded the development of a soon-to-be-available Point of Care tool for patients with Autism Spectrum Disorder.
A longtime advocate for emergency medicine through her role in ACEP's 911 Legislative Grassroots Network, Dr. Breen was active in the direction of the specialty's leadership. She served on the New York ACEP Board of Directors from 2007-2010 and was a frequent contributor to the chapter's newsletter.
"We would often talk about her travel adventures and snowboarding vacations," said JoAnne Tarantelli, Executive Director, New York American College of Emergency Physicians. "She was a gentle soul with a kind heart and engaging personality. Lorna will be remembered for her dedication, devotion and contributions to emergency medicine.
"Loss is never easy and especially difficult when the loss is one of our own, part of our family. Lorna will be missed," she added.
According to an article in The New York Times, Dr. Breen's father, Dr. Philip C. Breen, said his daughter had contracted the novel coronavirus, COVID-19, but had gone back to work after recuperating. She was in Virginia with her family at the time of her death. Her father added that she had described devastating scenes of the toll the coronavirus took on patients.
"She tried to do her job, and it killed her," he told The New York Times.
ACEP President William Jaquis, MD, FACEP, said the news is devastatingly personal for all emergency physicians and is a tragic reminder of that many of our colleagues suffer silently.
"Above all, we came to this job as healers. As emergency physicians, our core is treating and advocating for all our patients," Dr. Jaquis said. "The impossibility of the situation in many of our hospitals leaves us deeply wounded. I can only imagine for Dr. Breen it was more than she could bear—not out of weakness, but out of the strength of her compassion.
"She is a hero who despite having COVID-19 still thought of her patients and her team," he said.
A fund has been established in loving memory of Dr. Lorna Breen to provide mental health support to healthcare providers.
ACEP has free counseling sessions for its members who are experiencing depression, compassion fatigue, or any other mental health or substance abuse problems. Get more information online about the program, which offers local face-to-face appointments, or sessions 24/7 through phone, text or online messaging.
More information about physician suicide and how you can help notice your colleagues' warning signs and get help can be found on ACEP.org.