Choosing healthy behaviors today can blunt the impact of the flu season, prevent the spread of respiratory syncytial virus (RSV), and protect you from getting or spreading COVID-19, and reduce strain on our health care system.
Emergency physicians encourage everyone who is eligible to get vaccinated against both COVID-19 and the seasonal flu. Now is the time to stay vigilant; exercise caution and continue to follow CDC and community guidelines, especially as the weather gets colder and holidays approach.
The Centers for Disease Control and Prevention (CDC) recommends the flu vaccine for everyone six months of age or older. People with chronic health conditions, elderly individuals, racial or ethnic minorities, and health care workers are among those at highest risk of getting flu and/or COVID-19 and should prioritize getting the vaccine.
Even during a mild flu season, many emergency physicians can see an influx of patients that stretches the emergency department to capacity. Getting a flu shot reduces the severity of symptoms and gives people a better chance to stay healthy and avoid hospitalization.
Vaccine misinformation is still very concerning. Getting a flu shot does not increase the risk of getting COVID-19, according to the CDC. At the same time, getting a flu shot does not guarantee protection against COVID-19. The flu and COVID-19 are different respiratory viruses with some similar symptoms. A COVID-19 test for those with flu-like symptoms can help a health professional confirm the right diagnosis and recommend appropriate treatment.
Whether you think you may have the flu or COVID-19, it's important to know when to go to the emergency department. The infographic below can help differentiate between these common viruses and clarify when worrisome symptoms become a medical emergency.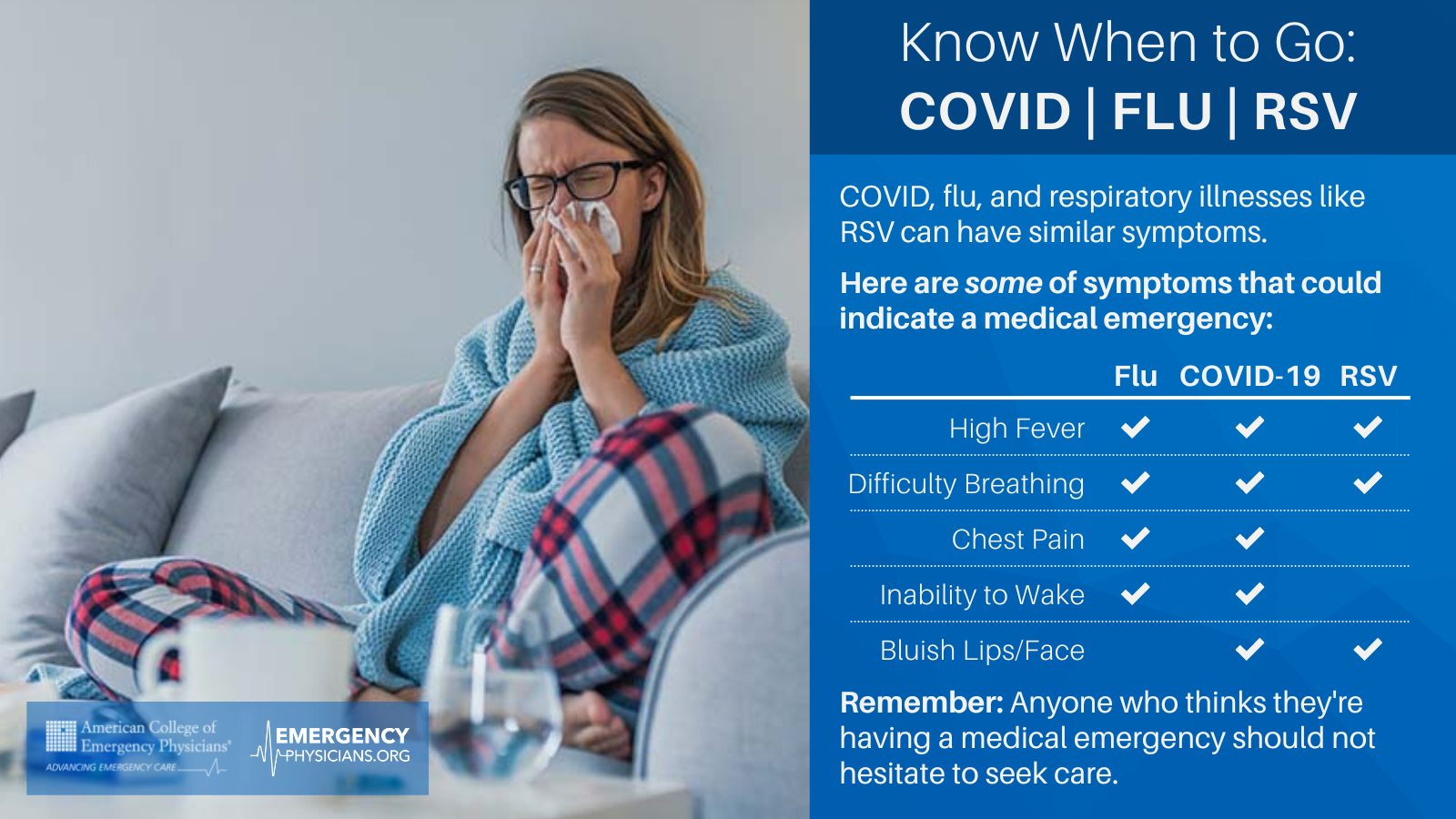 Anyone who thinks they're having a medical emergency should not hesitate to seek care. Federal law ensures that anyone who comes to the emergency department is treated and stabilized, and that their insurance provides coverage based on symptoms, not a final diagnosis.