An August 2021 public opinion survey from the American College of Emergency Physicians (ACEP) and Morning Consult* shows that when a severe injury or illness requires emergency medical attention, adults most trust emergency physicians and strongly prefer their care to be delivered by physician-led teams.
There's no question that frontline physicians are indispensable and valued by patients and their communities.
Nearly four in five adults (78 percent) report that they or somebody in their household have received care at an emergency department.
Of those adults, more than 80 percent positively rate the medical care they received.
Adults often rely on the emergency department as their primary or sole source of immediate medical care.
More than half of adults who sought immediate medical care chose to go to an emergency department because urgent care was unavailable, or they were referred by a medical provider (56 percent).
Another four in ten went to the emergency department because their injury or ailment appeared too severe for urgent care.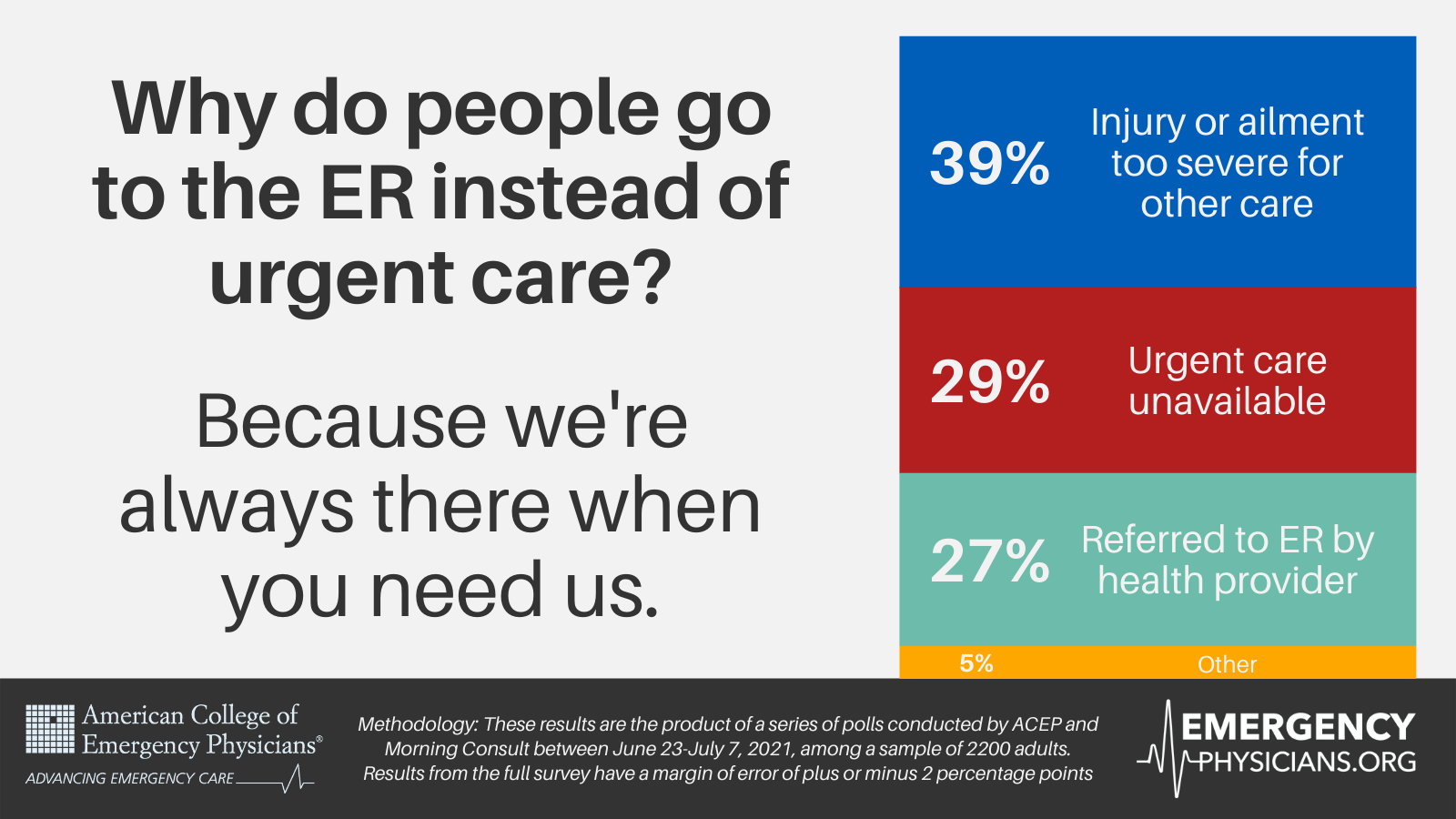 Download
However, when considering going to the emergency department, nearly half of adults (47 percent) are very concerned with their insurance provider refusing to cover them, the most intense concern second only to cost.
Adults consider 24/7 access to the emergency department as one of the most important services communities can provide.
Nine in ten adults (89 percent) say it is an essential or high priority to have 24/7 access to the ER, the highest of any utility or service that communities provide.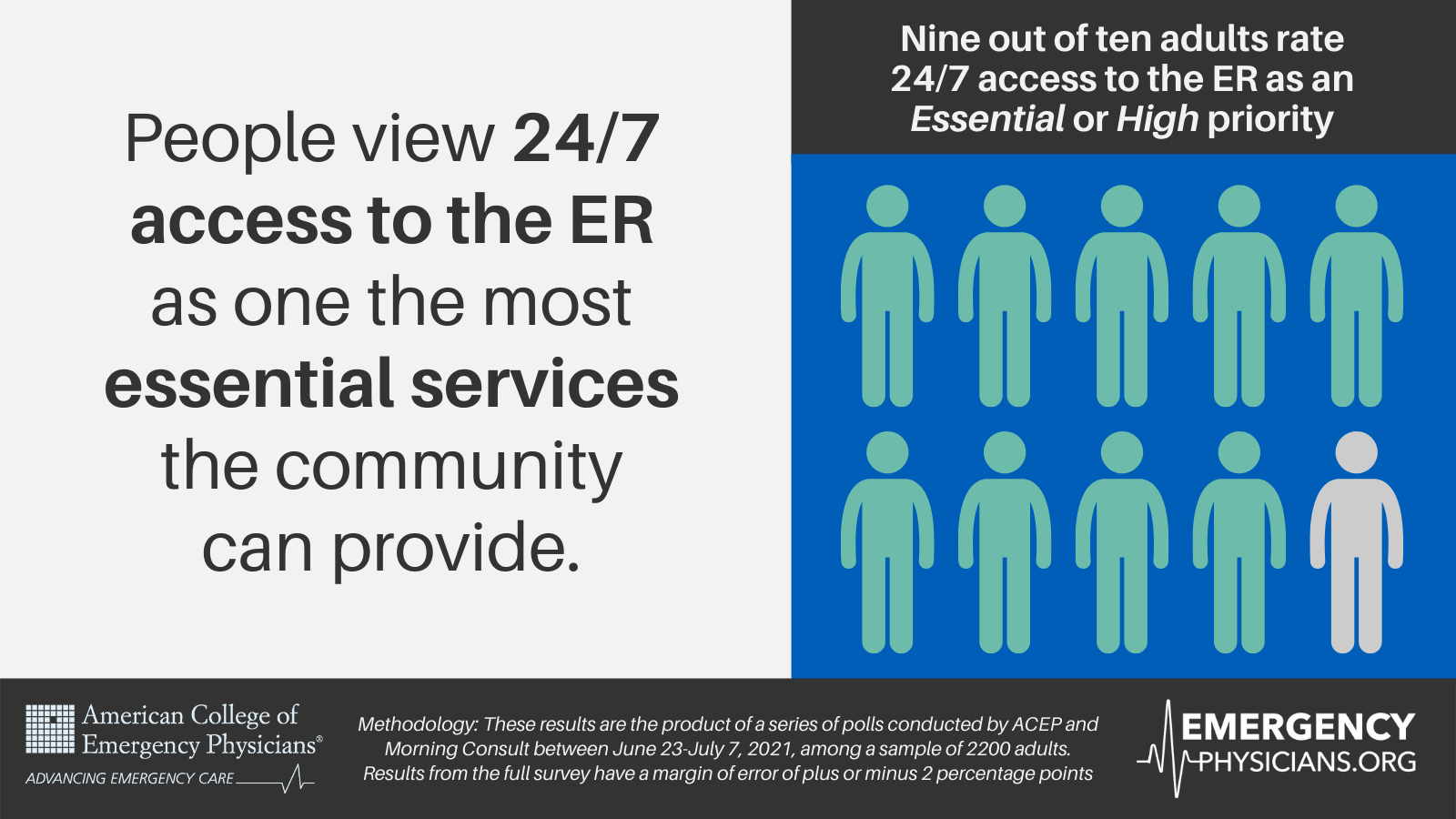 Download
Patients overwhelmingly trust a physician to lead their medical care while in the emergency department and more strongly prefer to be treated by a physician if their condition or injury is more severe.
More than nine in ten (93 percent) trust an emergency physician to provide medical care at the emergency department, with the strongest intensity in trust among adults 65 years and older (97 percent).
Nearly 80 percent of adults most trust a physician to lead their medical care in the emergency department as compared to a nurse practitioner (9 percent), physician assistant (7 percent), or nurse (5 percent).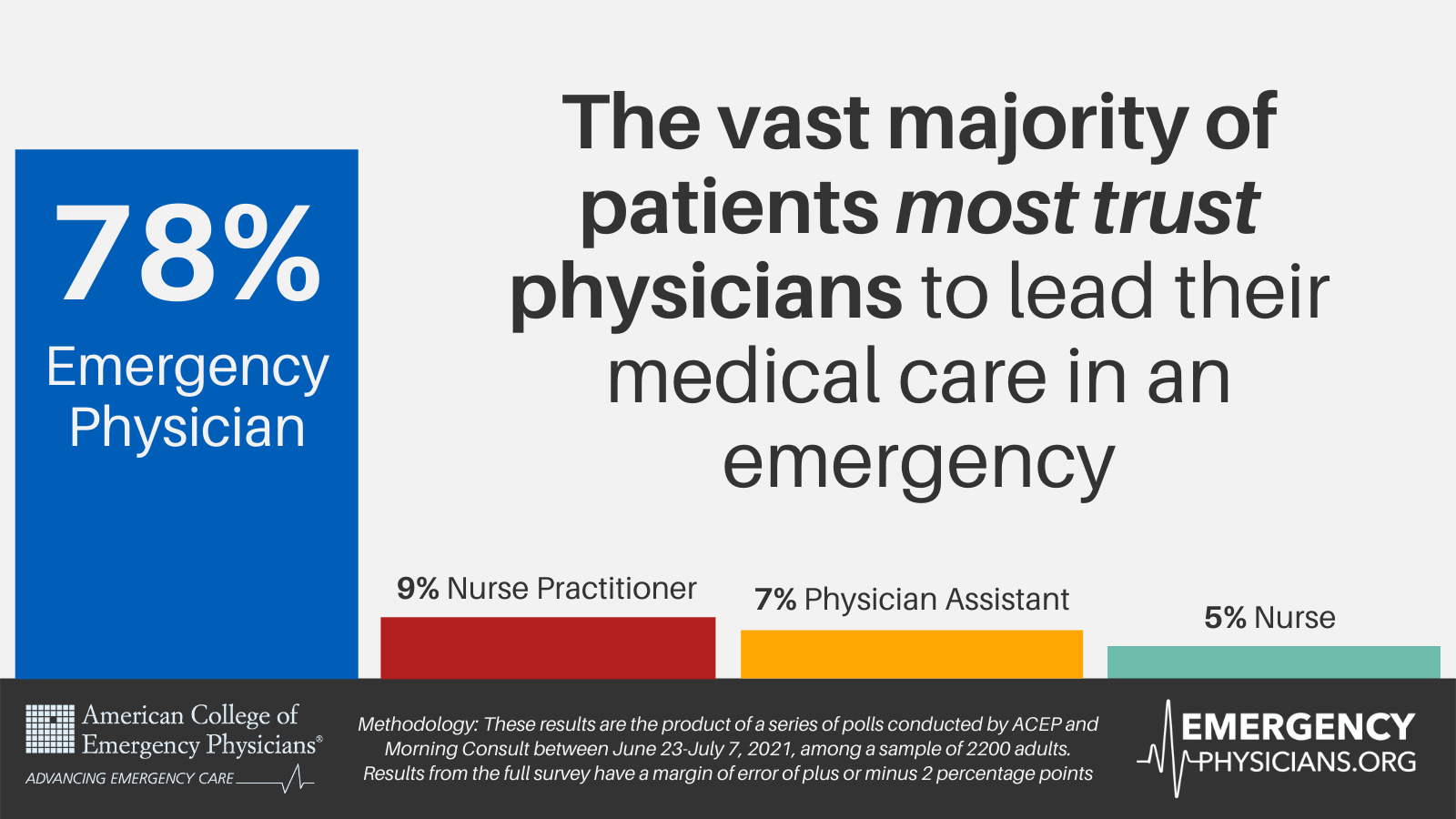 Download
As hospitals rely more on non-physicians—like physician assistants and nurse practitioners—to perform complex medical procedures, it's important to consider that people are often confused about the role of each team member and who is leading their care. Patients use a variety of unreliable or subjective criteria to determine whether they are being treated by a physician.
Twenty percent of younger adults (age 18-34) would use the color of a health care provider's scrubs to determine if they are a physician, however, different facilities have different rules about scrub colors so that's an inconsistent indicator.
A quarter of adults 35-44 would use the way a health professional interacted with their colleagues to determine if they are a physician, which may not account for different personality types, leadership styles, or individual biases.
Half of adults (49 percent) assume a person is a physician if they introduce themselves as "Dr. XXX", however, they may not be a medical doctor but instead have a PhD or doctorate in another field, maybe unrelated to health care altogether.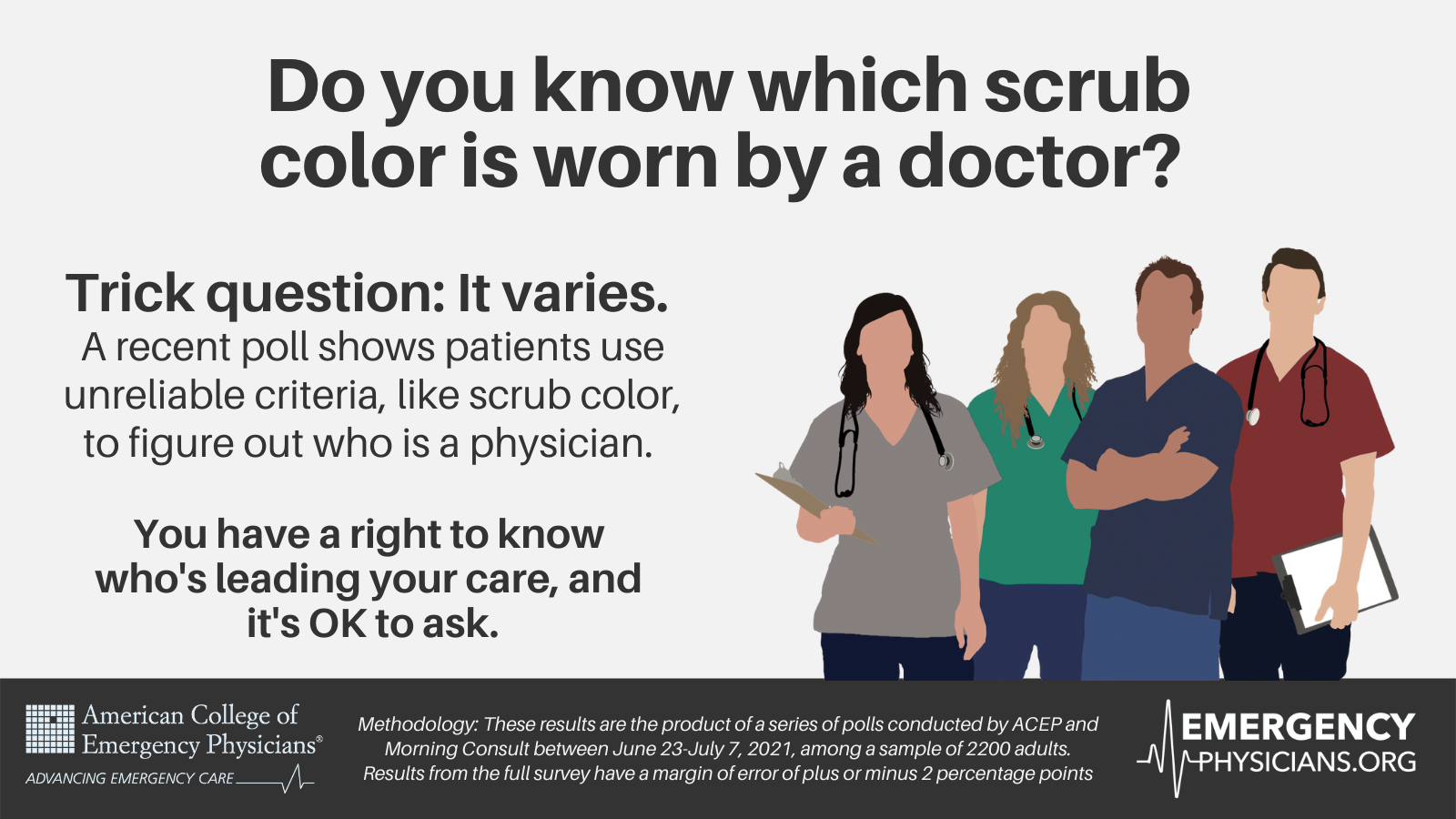 Download
Many adults are unclear on the differences between physicians and non-physician practitioners, such a physician assistant or nurse practitioner.
Forty-two percent indicate that they believe the difference between a physician and physician assistant is the ability to independently make diagnoses and treatment decisions, while a little more than half say it's years of education or training.
Similarly, nearly 40 percent incorrectly think a nurse practitioner can independently make treatment decisions and 35 percent believe they can prescribe medication.
The laws that determine who can practice medicine without supervision differ across the country, so it can understandable that people are confused about who is providing their care.
Many people may not know that a physician assistant must always work under the supervision of a physician.
And, while an nurse practitioner can work independently in some states, in others the law requires that they are supervised by a physician for certain parts of their job.
It is important to remember that while everyone responsible for patient care is a qualified medical professional, physicians have the deepest expertise, education, and training.
An emergency physician is the only member of the care team that is required to complete a multi-year medical education and training program known as a "residency", where they learn to treat any illness, any injury, any unexpected complication.
Only physicians must past a series of exams to become board-certified in a specialty, such as emergency medicine.
Physicians should lead every emergency care team—which also comprises well-trained physician assistants and nurses, and essential professionals—because they are the most highly trained and qualified to make diagnostic and treatment decisions for patients.
*Methodology: These results are the product of a series of polls conducted by Morning Consult on behalf of ACEP between June 23-July 7, 2021, among a sample of 2200 adults. The interviews were conducted online, and the data were weighted to approximate a target sample of adults based on gender, educational attainment, age, race, and region. Results from the full survey have a margin of error of plus or minus 2 percentage points.